SYMBOLICAL SYNONYMS OF SOLOMON'S SEAL:
THE VESICA PISCES
---

In the occult world, the Vesica Pisces is arguably one of the most significant and veiled
symbolical synonyms
of the Seal of Solomon. As with the Rosy Cross of Rosicrucianism, the Square and Compass of Freemasonry, the Yin-Yang symbol, and the hexagram itself, this symbol likewise signifies the yoking or mingling of opposites, male and female, light and dark, etc., thus representing, in the eyes of the esoteric adept, occult dualism, which holds that both good and evil are needful, a dogma addressed in "
What Evil Is And Why It Matters
".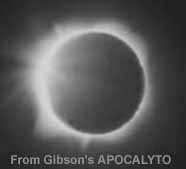 This form can be see when, during a solar eclypse, the moon, signifying the female principle in occult symbology, unites with the sun, the male principle. As seen in the movie "Apocalpytic", priests of the olden world used this event to hoodwink the people into thinking that their priestcraft was necessary to keep the sun going, which goes to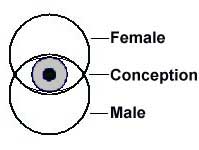 show that politicians aren't the only ones who would take credit for the sun rising if they could get away with it. The Eye that's formed as the two circles representing opposite principles merge to form the Vesica pisces is the problematical child of the process, so to speak, the eye of a perfect storm, one might say. See "Whose Eye's Light is Darkness".
According to the author of Jack The Ripper's Black Magic Rituals, JTR left a Vesica Pisces thumprint. Needless to say, most people who use this symbol have no nefarious intent and no idea how the symbol is used or interpreted in black magic; the meaning of any symbol, like any word in a text, can only be fairly evaluated when considered in the full context of its use.
---
Freemasonry must die, or liberty must die." -- Charles G. Finney

---
FREEMASONRY IS KABBALISTIC, NOT CHRISTIAN!


VISIT TALMUDUNMASKED.COM FOR MORE INFORMATION.
THOSE WHO WILL NOT BE RULED BY CHRIST WILL BE RULED BY ANTI-CHRIST.
"Those who sin are slaves, and slaves have no rights."

-- Jesus Christ, John 8:34
---
"Qabalah is the heart of the Western Hermetic tradition; it is the foundation upon which the art of Western magic rests." -- Sandra and Chic Cicero, the authors of "The Essencial Golden Dawn: An Introduction to High Magic", page 96. Llewlellyn Publications "For by thy sorceries were all nations decieved."
Rev. 18:23
---
Disclaimer: Opinions posted on this website are those of the individual posters and do not necessarily represent the opinions of N.O.S. or Craig Heimbichner or their associates. All materials posted herein are protected by copyright law and the exemption for fair use of copyrighted works. Neither this site nor its content has been authorized by Craig Heimbichner, in whose honor the site is dedicated.

---
"THOSE WHO WILL NOT BE GOVERNED BY GOD WILL BE RULED BY TYRANTS."


-- Thomas Penn



NO KING BUT JESUS!
---
| HOME | MISSION | BIBLE | AUDIO | VIDEO | ALERT |
---
Prepared & presented by the N.O.S., Snowmass, Colorado, USA
[HTML Generated by PALMTREE Copyright (c) John Paul Jones, 2004]
"Join me in battle, little children, against the black beast,
Masonry
..." Mother Mary [source: Father Gobbi,
Evolution & Freemasonry
]

"THEIR GOD IS THE DEVIL. THEIR LAW IS UNTRUTH. THEIR CULT IS TURPITUDE." Pope Pius IX, speaking of
Freemasonry
---

"Yea, ye took up the tabernacle of
Moloch
, and the star of your god
Remphan
, figures which ye make to worship them; and I will carry you away beyond Babylon." Acts 7:43 KJV
---
Wherefore come out from among them, and be ye separate, saith the Lord, and touch not the unclean thing.." (II Corinthians 6:18 KJV)
---
---
Joan of Arc on the Bohemians