THE SEAL OF SOLOMON (STAR OF DAVID) AS USED IN JUDAISM
---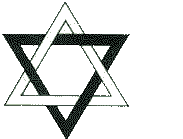 In Webster's Dictionary, we read: "Solomon's Seal, a mystic talismanic symbol in the form of an interlaced outline of either a five pointed star or six-pointed star." (Random House Unabridged Webster's Dictionary, Second Edition, page 1817, where the six-pointed star is illustrated as pictured here. See also STAR OF REMPHAN.)
In Judeo-Freemasonry, the Seal of Solomon's mystical meaning is defined as follows: "The interlacing triangles or deltas symbolize the union of the two principles or forces, the active and passive, male and female, pervading the universe.... The Two triangles, one white and the other black, interlacing, typify the mingling of the two apparent powers in nature, darkness and light, error and truth, ignorance and wisdom, evil and good, throughout human life." (Encyclopedia of Freemasonry, Albert G. Mackey, 33rd Degree Freemason, and Charles T. McClenachan, 33rd Degree Freemason, p. 801.)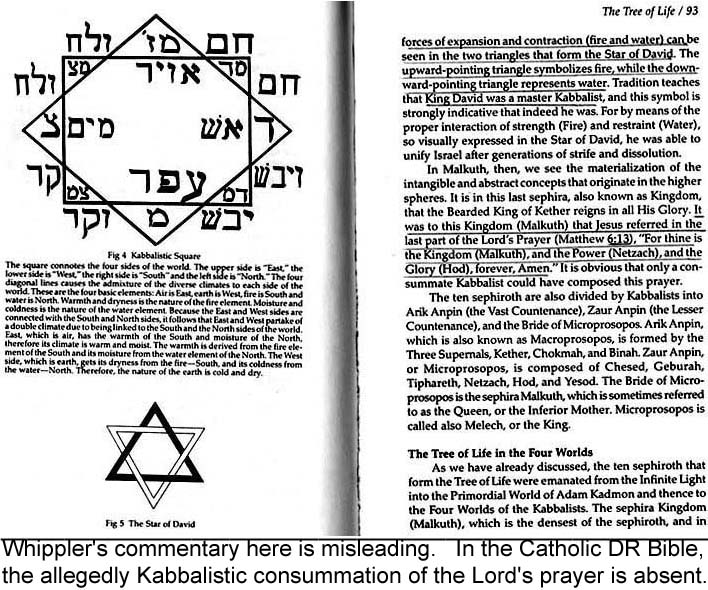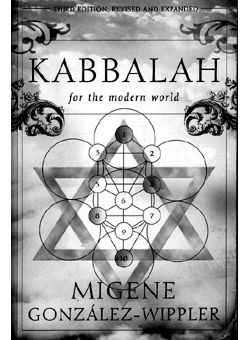 As the scan of two pages from Whippler's book on the Jewish Qabalah attests, the same Seal of Solomon that's used in Freemasonry is also used by Kabbalists and has the same meaning. The scan above is from Gonzalez Whippler's book "Kabbalah for the Modern World", where she describes the double triangles of Solomon's Seal in the same way as it's described in Freemasonry; that is, one triangle represents water, the other triangle represents fire, i.e., the triangles represent opposite principles in nature, as well as their interlocking or equalibrium.
---
Freemasonry must die, or liberty must die." -- Charles G. Finney

---
FREEMASONRY IS KABBALISTIC, NOT CHRISTIAN!


VISIT TALMUDUNMASKED.COM FOR MORE INFORMATION.
THOSE WHO WILL NOT BE RULED BY CHRIST WILL BE RULED BY ANTI-CHRIST.
"Those who sin are slaves, and slaves have no rights."

-- Jesus Christ, John 8:34
---
"Qabalah is the heart of the Western Hermetic tradition; it is the foundation upon which the art of Western magic rests." -- Sandra and Chic Cicero, the authors of "The Essencial Golden Dawn: An Introduction to High Magic", page 96. Llewlellyn Publications "For by thy sorceries were all nations decieved."
Rev. 18:23
---
Disclaimer: Opinions posted on this website are those of the individual posters and do not necessarily represent the opinions of N.O.S. or Craig Heimbichner or their associates. All materials posted herein are protected by copyright law and the exemption for fair use of copyrighted works. Neither this site nor its content has been authorized by Craig Heimbichner, in whose honor the site is dedicated.

---
"THOSE WHO WILL NOT BE GOVERNED BY GOD WILL BE RULED BY TYRANTS."


-- Thomas Penn



NO KING BUT JESUS!
---
| HOME | MISSION | BIBLE | AUDIO | VIDEO | ALERT |
---
Prepared & presented by the N.O.S., Snowmass, Colorado, USA
[HTML Generated by PALMTREE Copyright (c) John Paul Jones, 2004]
"Join me in battle, little children, against the black beast,
Masonry
..." Mother Mary [source: Father Gobbi,
Evolution & Freemasonry
]

"THEIR GOD IS THE DEVIL. THEIR LAW IS UNTRUTH. THEIR CULT IS TURPITUDE." Pope Pius IX, speaking of
Freemasonry
---

"Yea, ye took up the tabernacle of
Moloch
, and the star of your god
Remphan
, figures which ye make to worship them; and I will carry you away beyond Babylon." Acts 7:43 KJV
---
Wherefore come out from among them, and be ye separate, saith the Lord, and touch not the unclean thing.." (II Corinthians 6:18 KJV)
---
---
Joan of Arc on the Bohemians