SYMBOLICAL SYNONYMS OF SOLOMON'S SEAL:
TWIN PILLARS
---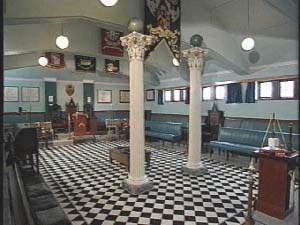 In the Qabalah, the twin pillars of Severity and Mercy, black and white, left and right, mean much the same thing as the Seal of Solomon. Albert Churchward, in his book "The Arcana of Freemasonry", makes this clear: "The Old Mystery Teachers of Egypt mapped out, or divided, the Heavens first into two divisions, South and North. The 'Points' being the two Pole Stars, resting on the Horizons, as seen in the centre of Africa, 'Points' which never changed with time,' represented symbolically as Set and Horus, Twins of the Great Mother, 'the two Primary Gods', symbolized by two Poles or Pillars or two Eyes, and sometimes by two Circles. These also represented Light and Darkness...." (Albert Churchward, "The Arcana of Freemasonry", pages 231-232.)
The pillar called Jakin represents the female organ, the uterus, and the column called Boaz represents the male principle, or phallus, according the Lady Quensborough, author of "Occult Theocracy", volume II. "The one of these pillars he [Solomon] set at the entrance of the porch on the right hand (or South,) and called it Jachin, and the other at the left and, (or North,) and called it Boaz." (Mackey's Lexicon of Freemasonry, page 353; brackets mine) Thus the pillars need not be color-coded but can be identified, if properly situated, by their geographic locations, where the southern pillar signifies the female principle (black triangle) and the northern pillar represents the male principle (white triangle), thus symbolically denoting the black-white Jehovah of Solomon's Seal.
---
Freemasonry must die, or liberty must die." -- Charles G. Finney

---
FREEMASONRY IS KABBALISTIC, NOT CHRISTIAN!


VISIT TALMUDUNMASKED.COM FOR MORE INFORMATION.
THOSE WHO WILL NOT BE RULED BY CHRIST WILL BE RULED BY ANTI-CHRIST.
"Those who sin are slaves, and slaves have no rights."

-- Jesus Christ, John 8:34
---
"Qabalah is the heart of the Western Hermetic tradition; it is the foundation upon which the art of Western magic rests." -- Sandra and Chic Cicero, the authors of "The Essencial Golden Dawn: An Introduction to High Magic", page 96. Llewlellyn Publications "For by thy sorceries were all nations decieved."
Rev. 18:23
---
Disclaimer: Opinions posted on this website are those of the individual posters and do not necessarily represent the opinions of N.O.S. or Craig Heimbichner or their associates. All materials posted herein are protected by copyright law and the exemption for fair use of copyrighted works. Neither this site nor its content has been authorized by Craig Heimbichner, in whose honor the site is dedicated.

---
"THOSE WHO WILL NOT BE GOVERNED BY GOD WILL BE RULED BY TYRANTS."


-- Thomas Penn



NO KING BUT JESUS!
---
| HOME | MISSION | BIBLE | AUDIO | VIDEO | ALERT |
---
Prepared & presented by the N.O.S., Snowmass, Colorado, USA
[HTML Generated by PALMTREE Copyright (c) John Paul Jones, 2004]
"Join me in battle, little children, against the black beast,
Masonry
..." Mother Mary [source: Father Gobbi,
Evolution & Freemasonry
]

"THEIR GOD IS THE DEVIL. THEIR LAW IS UNTRUTH. THEIR CULT IS TURPITUDE." Pope Pius IX, speaking of
Freemasonry
---

"Yea, ye took up the tabernacle of
Moloch
, and the star of your god
Remphan
, figures which ye make to worship them; and I will carry you away beyond Babylon." Acts 7:43 KJV
---
Wherefore come out from among them, and be ye separate, saith the Lord, and touch not the unclean thing.." (II Corinthians 6:18 KJV)
---
---
Joan of Arc on the Bohemians