THE HEXAGRAM AS USED IN THE OCCULT
---
"666 is the occult number of the Hexagram, the symbol of the Sun, for a single line of the Hexagram contains three equal parts, each of which may be represented by the number 1, so that every line can be symbolized by the number 111. There are six lines in all, so that 111x6=666, the most Holy Number of the Sun. Each angle of the Hexagram is 60 degrees. 60 is the number of the Hebrew letter Samekh, which is the letter of the Holy Guardian Angel or the Solar Self in Man. Six angles of 60 degrees each equals 360 degrees, and 360 is the number of the Hebrew letter Shin spelled in full. Shin is the letter of the Sun and of 666. Also 666 is the number of a "Man" who lives in the Sun." (David Cherubim, aka, Frater Aurora Aureae of The Order of the Thelemic Golden Dawn, a Qabalistic secret society, as quoted in his work Thelmic Numbers and Words, http://thelemicgoldendawn.net/documents/hexagram.htm
"The Six-Pointed Star or Hexagram, is called the Tetragrammaton and is the symbolic representation of the Jewish-Talmudic G-d of the Kabbala. The Sephirotic Tree of the Cabala taught that the sum of the numerical values of Ain-Soph (166, absolute empty) and Kether (500, unity) gives 666, i.e., the Sun.)" ( source: see Ask The Rabbi)
---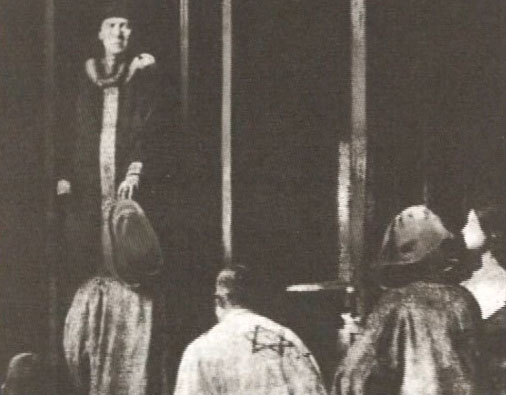 [Followers of
Aleister Crowley
, main guru of the
O.T.O.
, whose god is
I.A.O.
, worship their master; note the symbol on their robes is a
hexagram
."
---
"And the smoke of their torment ascendeth up forever and ever: and they have no rest day nor night, who worship the beast and his image, and whosoever receiveth THE MARK OF HIS NAME." (Rev 14:11), The Holy Bible
This calls for wisdom. If anyone has insight, let him calculate the number of the beast, for it is man's number. His number is 666. (NIV) Rev 13:18
---
---
Freemasonry must die, or liberty must die." -- Charles G. Finney

---
FREEMASONRY IS KABBALISTIC, NOT CHRISTIAN!


VISIT TALMUDUNMASKED.COM FOR MORE INFORMATION.
THOSE WHO WILL NOT BE RULED BY CHRIST WILL BE RULED BY ANTI-CHRIST.
"Those who sin are slaves, and slaves have no rights."

-- Jesus Christ, John 8:34
---
"Qabalah is the heart of the Western Hermetic tradition; it is the foundation upon which the art of Western magic rests." -- Sandra and Chic Cicero, the authors of "The Essencial Golden Dawn: An Introduction to High Magic", page 96. Llewlellyn Publications "For by thy sorceries were all nations decieved."
Rev. 18:23
---
Disclaimer: Opinions posted on this website are those of the individual posters and do not necessarily represent the opinions of N.O.S. or Craig Heimbichner or their associates. All materials posted herein are protected by copyright law and the exemption for fair use of copyrighted works. Neither this site nor its content has been authorized by Craig Heimbichner, in whose honor the site is dedicated.

---
"THOSE WHO WILL NOT BE GOVERNED BY GOD WILL BE RULED BY TYRANTS."


-- Thomas Penn



NO KING BUT JESUS!
---
| HOME | MISSION | BIBLE | AUDIO | VIDEO | ALERT |
---
Prepared & presented by the N.O.S., Snowmass, Colorado, USA
[HTML Generated by PALMTREE Copyright (c) John Paul Jones, 2004]
"Join me in battle, little children, against the black beast,
Masonry
..." Mother Mary [source: Father Gobbi,
Evolution & Freemasonry
]

"THEIR GOD IS THE DEVIL. THEIR LAW IS UNTRUTH. THEIR CULT IS TURPITUDE." Pope Pius IX, speaking of
Freemasonry
---

"Yea, ye took up the tabernacle of
Moloch
, and the star of your god
Remphan
, figures which ye make to worship them; and I will carry you away beyond Babylon." Acts 7:43 KJV
---
Wherefore come out from among them, and be ye separate, saith the Lord, and touch not the unclean thing.." (II Corinthians 6:18 KJV)
---
---
Joan of Arc on the Bohemians