THE HIDDEN HISTORY OF THE HEXAGRAM
---
John Daniel, a Protestant Christian and Masonologist, claims that the hexagram did have profound Biblical meaning, though the import is unflattering to modern-day Talmudic Kabbalistic Judaism: "Originally the interlaced triangle was a decorative motif or magical emplem symbolic of the Hindu star-god. Later it migrated to Assyria and there was adopted by the ten northern tribes of Israel before they were taken into captivity in 721 BC23. (see II Kings 17:1-23) This is confirmed by the prophet Amos, who God had sent to the ten tribes to warn them of impending bondage if they refused to not repent of their idolatry with Assyrian gods. Amos, speaking for God, warns Israel in Amos 5:26-27:
But ye have borne the tabernacle of...Chiun...the star of your god, which ye made to yourselves. Therefore, will I cause you to go into captivity beyond Damascus, saith the Lord, whose name is the God of hosts.
Chiun is the planet Saturn, the star-god, symbollized by the two interlaced triangles, or six pointed star called the hexagram.24 The hexagram is also known as the Lucifer Star (P.B.S1.F6726 Idolotrous Israel had 'bourne' or carried 'the star...god' by wearing the hexagram as an amulet. It was also carved in the door frames of every Iraelite house, ostensibly to ward off the 'fire god.' Since that time the six-pointed star has also been a Jewish symbol found in synagogues from the very beginning of the diaspora (see chap. 7 pp. 185-186). This was 1,700 years before the Priory of Sion appropirated it in the first millinium A.D. 26 After that it appeared on the heraldic flag of the Jews in Prague in 1527, a full two centuries before Gentile Freemasonry adopted it from the Jewish Cabala. Therefore it would be natural for the Alliance in 1860 and the Zionists in 1897 to select it as their herald." (Scarlet and the Beast, Vol. III, page 447-48)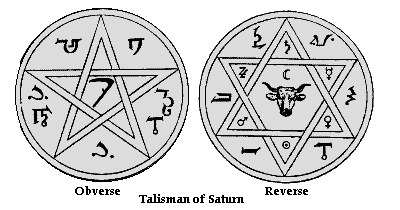 In the Book of Acts, the first Christian martyr, Stephen, who was stoned to death by the Pharisees, refered to what is arguably the same idolotrous image,
Remphan
, just prior to his murder:
Eliphas Levi
, a French Qabalist and Freemason, who had been given the priviledge to study and translate rare occult texts that had been heisted from the Vatican by Napoleon Bonaparte, claimed that the star of Remphan is an inverted pentagram, or
Eastern Star
, as it's called in Freemasonry:
In the occult world, the Easter Star of Freemasonry is one among many of the symbolical
synonyms of Solomon's Seal
.
Rev. 18:23